3D-printing (Additive manufacturing) with thermoplastics is gaining adoption across the industry, particularly in aerospace and medical applications where the requirement for lightweight and customizable part properties is one of the main drivers. The main benefit of additive manufacturing is the design freedom it allows, which is why often the phrase "complexity for free" is used in connection with 3D printing. However, the truth is that often, the application of additive manufacturing methods leads to poorer mechanical properties and surface texture of the printed parts compared to subtractive manufacturing methods or injection molding. This is particularly true for in the Z-orientation as weak inter-layer bonding usually leads to delamination of parts. Orion-AM and Exponential Technologies (xT) partnered to solve this problem.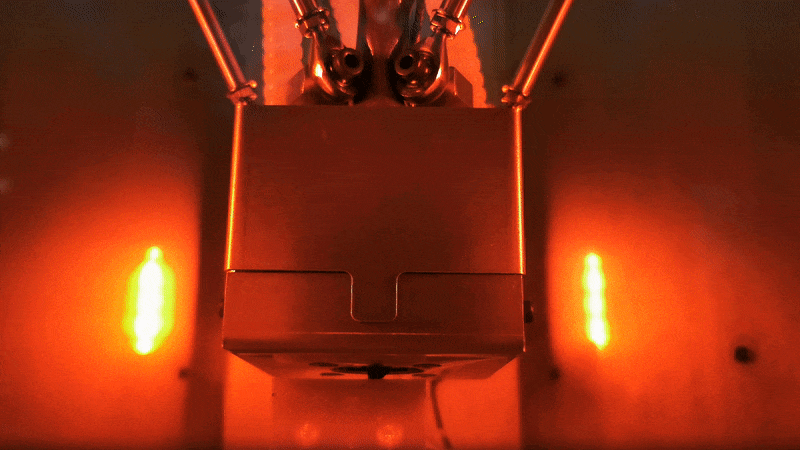 Orion-AM, a 3D printer manufacturer based in Berlin, Germany, has developed a Fused Filament Fabrication (FFF) process in combination with thermal radiation heating (TRH) that enables the production of plastic parts that fulfill the high standards for medical and aerospace applications. Orion-AM partnered with Exponential Technologies to use the xT SAAM Data Science Platform to optimize printer settings in order to achieve superior mechanical properties in their process.
Orion-AM has developed an amazing new FFF printer technology that uses a highly controlled chamber temperature to achieve outstanding printing performance. It was a natural next step for us to support them in their printer setting development to achieve the best possible printing quality

states Matthias Kaiser, CEO and Co-founder of Exponential Technologies Ltd.
Accelerating 3D-printing
The goal of this project was to find printer settings that produce high quality parts with superior mechanical properties, such as strength and density while balancing optical properties such as surface finish. Orion-AM developed printer settings using the xT SAAM platform for PEEK filaments produced by Solvay and Evonik in vertically printed tensile bar specimens.
To develop new printer settings for PEEK materials, Orion-AM varied extruder temperature, layer temperature, fan speed, bed temperature, and infill overlap using suggestions from xT SAAM. xT SAAM's novel machine learning algorithms iteratively suggested parameter combinations that Orion-AM tested, and with each subsequent iteration, they improved the end part properties. By using advanced machine learning algorithms, xT SAAM is easier to use and requires less data to achieve superior results compared to classical methods. Additionally, xT SAAM produces reliable digital process twins that allow the prediction of end part properties and reduce experiments even further in the future.
Incredible results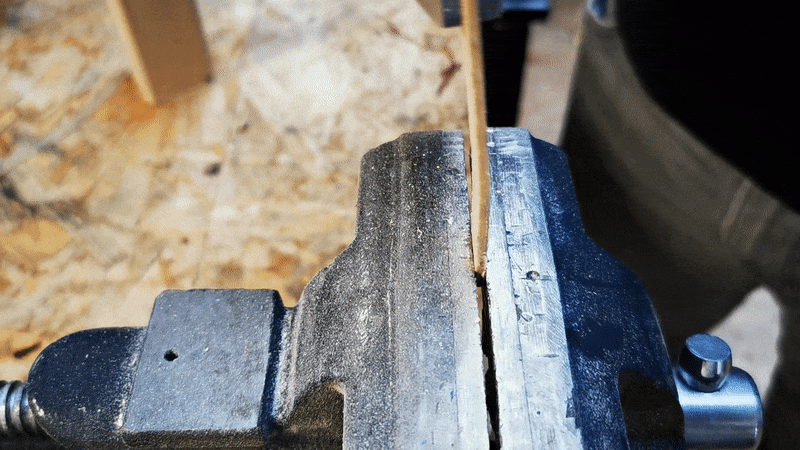 After about 20 to 30 printed samples with each material, with improving results with each additional sample, Orion-AM concluded the experiment with results that exceeded injection molding in both tensile strength and elastic modulus. For comparison, the tensile strength of injection molded PEEK is around 90MPa and the elastic modulus is around 3.3GPa. Orion-AM was able to obtain 95MPa tensile strength and 3.8GPa tensile modulus for Solvay's PEEK filament utilizing xT SAAM, while Evonik's PEEK filament for industrial grade achieved 92.8MPa tensile strength and 3.7GPa tensile modulus.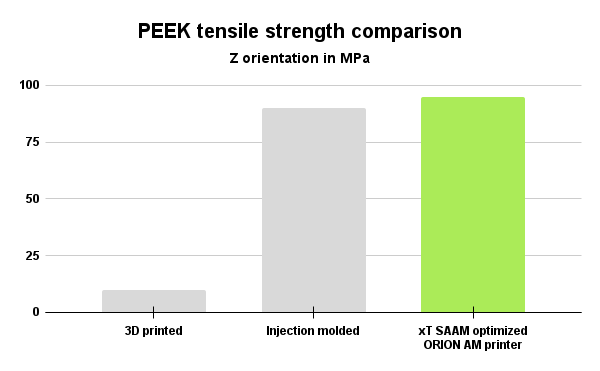 Using the xT-SAAM platform, we were able to fine tune our 3D printing process to achieve a tensile strength and elastic modulus for PEEK that exceeded injection molding in Z-orientation in as little as 30 samples.

states Adam Rumjahn, CEO and founder of Orion Additive Manufacturing GmbH
The xT SAAM considerably reduced the overall R&D time in this project by providing uniform results in strength and density. Orion-AM was able to overcome the anisotropic aspect of FFF 3D printing with the aid of xT SAAM, even while printing difficult-to-print aerospace-grade materials like PEEK. As a result, the characteristics are virtually isotropic.
Additionally, the xT SAAM platform is easy to use and doesn't require any statistical or programming knowledge from the user. This makes it a tool that every engineer could start using today to develop superior 3D printing processes.
xT is an experienced player in the application of artificial intelligence (AI) and machine learning (ML) in industrial markets. xT has a track record of delivering world-class software products in the field of industrial R&D. Combining their experience with AI/ML technologies with their knowledge of the AM market, xT is ready to make the promise of "first time right" a reality.
Orion-AM is an industry leader for additive manufacturing solutions in high-performance polymers. Orion-AM is pushing the limits of what can be achieved with FFF based technology to enable on-demand manufacturing of end-use parts in aerospace and medical industries.