It's vital for additive manufacturing companies to optimize its production workflow to provide lower lead times and to reduce development costs. That's where Exponential Technologies (xT) played an important role since xT SAAM provided the ease to optimize process parameters. Before the Artificial Intelligence approach, Alkimat had to test every new material with Design of Experiments and statistical analyses, but not only was it hard to define parameters to test and explore the process, also statistical knowledge and software were required.
With xT SAAM, it was easy to define rules and ranges to vary the parameters on each process interaction and to translate that to a .csv file to use on the machine configuration. With five prints consisted of a step of printing 25 samples and another step of density measurement by Archimedes method, Alkimat optimized the printing parameters of Scalmalloy, an aluminum alloy for aerospace applications, to achieve near 99% relative density, resulting in the success of a R&D project requested by IPT (Instituto de Pesquisas Tecnológicas).
In addition, xT SAAM has a great visual tool to analyze the association between parameters. Finally, xT provided great technical assistance to achieve great results when Alkimat was struggling with the experiment design. With that in mind, Alkimat is willing to continue to explore AI technologies in partnership with xT to increase business performance.
If you are interested to become a partner or beta-tester, visit the xT booth B72 in Hall 11 at Formnext 2021 or contact us under info@x-t.ai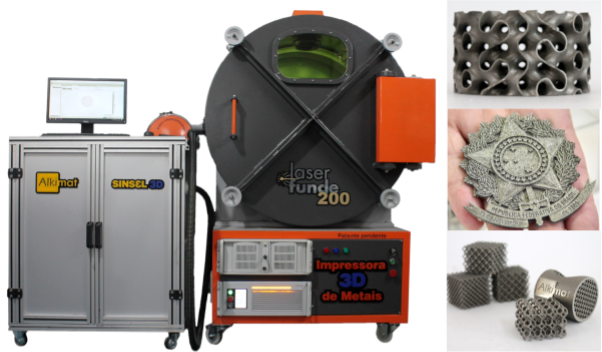 Alkimat develops additive manufacturing machines and equipment focused on laser powder bed fusion technique. Today the company has two machines installed in its own workshop to provide services for companies that are starting to embrace additive manufacturing in Brazil and also to develop new materials for multi-step additive manufacturing.
Alkimat's machines have 170 mm (diameter) x 200 mm (height) of working volume, which is an entry volume for several AM applications, are equipped with fiber and CO2 lasers to work with metallic and polymeric materials, and also have atmosphere control and powder bed heating. These equipment have an open architecture, meaning that the users can develop and optimize their own materials and parts by changing process parameters, like laser power, scan speed, hatch spacing and so on by themselves.
The company has developed printing parameters for AISI 5120, a well known carburizing steel for automotive transmissions, with the industrial partners Gerdau, Braskem and ITA (Instituto Tecnológico de Aeronáutica) to develop solutions for the electromobility sector. The company also developed projects with UFSC (Universidade Federal de Santa Catarina) and Brats on diverse areas of expertise, from metallic filtering parts to new polymeric materials for SLS. At the moment the company is developing machines that can print metallic, polymeric and ceramic parts on the same system via single and multi step additive manufacturing and is focusing on the development of AM products.
Exponential Technologies Ltd. (xT)
xT is an experienced player in the application of artificial intelligence (AI) and machine learning (ML) in industrial markets. In particular, xT has a track record of delivering world class software products in the field of industrial R&D. Combining their experience with AI/ML technologies and their knowledge of the AM market, xT is ready to gradually turn the promise of "first time right" into reality.